Voltumna is a collective project,
created to promote a common understanding
of the earth vitality…
Voltumna
It's a collective project created to share our passion for agriculture, an activity that places the man in a continuous dialogue with nature. Voltumna promotes a common understanding of the earth's vitality which should never be forced. Voltumna shows that the effort of individuals joined together can overcome the predominance of the aggressive exploitation of natural resources.
Voltumna
It's a place in Tuscany, located at an elevation of about 300 m. To its north extends the Tuscan Apennines and to its south the Mugello Valley—an area where the green forests still dominate the landscape, and whose cool temperatures refresh the vines that provide us with the grapes we so cherish.
Voltumna
It's a wine made from vines grown using the biodynamic method, where the rhythm of nature dictates the pace of the work. The grapes are hand-picked bunch by bunch, fermented with their own yeasts, not filtered, not clarified, just tasted and tasted before being deemed ready to drink.
Voltumna is a place near Dicomano,
a smal town of Mugello,
on the Tuscan Apennines not fare away
from Firenze.
The territory of Voltumna has unique features compared to the rest of the area of the Florentine province of Mugello Valdisieve because of the variety and multitude of elements that come together in such a relatively small space.
Voltumna sits in a position, offering to its [chose direction…i.e. "north" "southwest"] the Tuscan-Roman Apennines at a height of between 250-350 meters above sea level. The cold winds coming from the East, after having crossed the Adriatic, though mitigated, wrap around the hills in the long and cold winters, making them appreciate the colorful springs and giving fresh relief in the hot summer nights. Clay soil, from the ancient and well-stratified Galestran rock, offers gradients which prevent damage from stagnant water, but serves as a useful reserve during the brief but intense moments of drought.
At Voltumna, each specific grape variety is located in an area all to its own, which gives its visitors the impression of traversing through completely different settings.
The Sangiovese vineyards
The Sangiovese vineyards (1.8 hectares), although contiuous, appear jagged in 5 plots with different slope angles and exposure directions for each. Their eyes are shielded from the south by Monte Giove (or "Giove Mountain"), turning to the west along the Mugello. The Ginestra bushes that separate the vineyards, besides being aesthetically very attractive when they bloom, are vital for insects as they provide them with nectar and serve as a bird refuge. In these vineyards, pheasant and hare live peacefully (or "live harmoniously with the vineyard's activities) and are observed roaming freely.
The Pinot Noir vineyards

The two distinct Pinot Noir vineyards are found in the woods, far from those of Sangiovese, closed in their own private world, except for the passing deer and wild boar. In the spring, with the beautiful blooms of the Elderflower, Cascia and Cumin, everything turns white.
The Pinot Grigio vineyard

The Pinot Grigio vineyard, while the youngest, is the real queen (or "center", "sun", "highlight") of Voltumna's universe. Looking at Monte Giove (or again "Giove Mountain") with an intense brightness, one sees the best panorama: letting ones eyes wander from the west, one sees where the young and torrential Sieve is born, and to the south, where the River, in its old age, dies and passes into the Arno.
Voltumna it's a wine made from vines
grown by using the biodynamic method,
where the rythm of Nature
dictates the pace of work.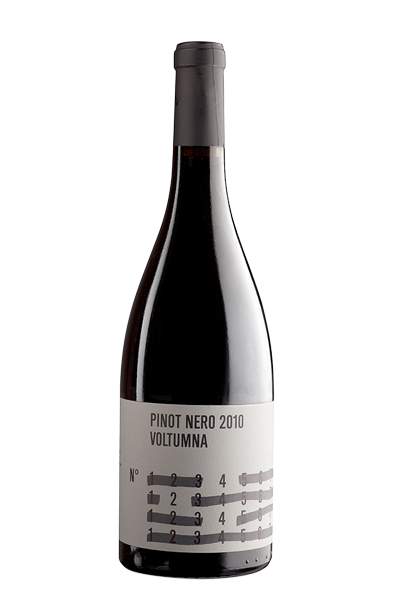 Pinot Nero

The Voltumna Pinot Nero does not speak French. He came to us as a pilgrim and here he settled. With new eyes he told us what we were not able to comprehend before. "Habit does not help the genius," he said, and he began to sing us a new song.

Info
The two Pinot Noir vines (8 years of age) are situated on the highest point of the vineyard surrounded by the woods. Each vine has its own characteristic because each grows in a different kind of soil. The Voltumna Pinot Noir 2010 is born from their union. Aged for 18 months in second or third use oak barrels. Alcohol 14.05% Vol. Sulphur 64 mg / l. 2010 edition of 2880 bottles.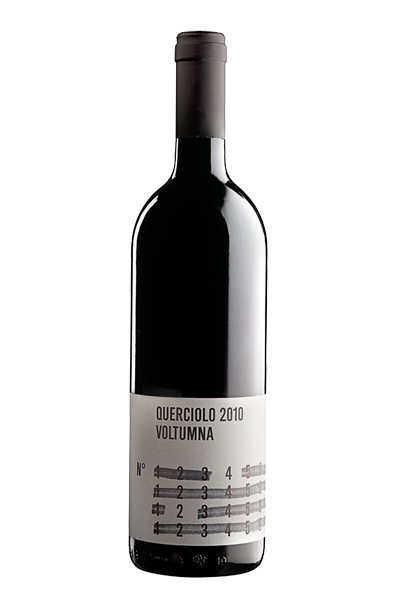 Querciolo

Raising your glass, you will ask, "Is this a Sangiovese?" The palate will answer, "It is a Sangiovese!" But unlike his Tuscans brothers, Querciolo doesn't speak about the harshness of the earth. Instead, he talks about the flavour of his surroundings: the scent of the woods and the wisdom of the oaks.

Info
Voltumna Querciolo is created with selected Sangiovese grapes from a late harvest (the Sangiovese vine is 13 years of age). The fermentation base – pie de cuve – is obtained from Voltumna's classic Tuscan vineyard, 30 years of age, with 3 different types of vines – Sangiovese, Canaiolo, Colorino. After a maceration in steel, Querciolo is aged 18 months in second or third use oak barrels. Alcohol 13.5% Vol. Sulphur 66mg / l. 2010 edition of 1350 bottles.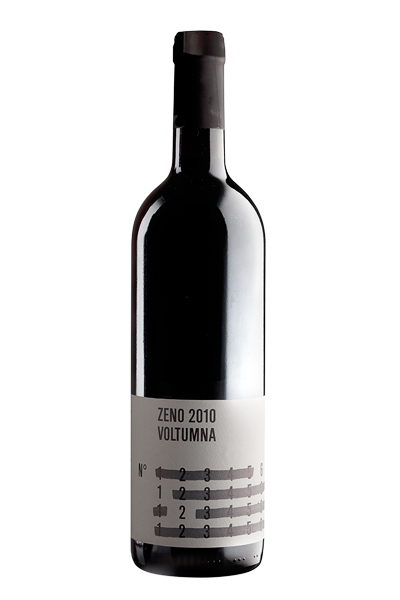 Zeno

Zeno is a coexisting couple. Against all clichés and old-style arranged marriages, this wine is here to tell us that there is no future without diversity. Tasting it you'll experience something unexpected.

Info
Zeno comes from Voltumna's young Sangiovese vines – 7 years of age, mixed with Pinot Noir – 8 years of age. 85% Sangiovese, 15% Pinot Noir. The two grapes ripen at different moments and therefore follow different fermentation processes. They become Zeno after two years spent together in steel.
Alcohol 13.5% Vol. Sulphur 82mg / l. 2010 edition of 5450 bottles.
VOLTUMNA PARTY 2014
Programma
Venerdì 4 Luglio
ore 19.00
Agriturismo Pignano – cena di benvenuto per gli amici che vengono da lontano.
Chi ha piacere di unirsi ci contatti per conferma, i posti sono limitati.
Sabato 5 Luglio
Mattina in Vigna
ore 9.30 – 12.30
Giro per le vigne Voltumna accompagnati da Marzio Politi il giro si concluderà in Cantina con una degustazione verticale di Querciolo e Pinot
Sera in Azienda
ore 19.00
Aperitivo
ore 20.00
Cena sociale – contributo 15€ necessaria conferma a info@voltumna.it
ore 21.30
Teatro
L'insostenibile pesantezza del cresere
con Tommaso Taddei, Emiliano Terreni e con Davide Cecconi
Produzione Gogmagog
ore 22.30 – 24.00
Live Kabasol Trio
Giacomo Ballerini voce-chitarra, Marco Cattarossi basso, Luca Solini batteria
A seguire DjSet fino all'alba
Domenica 6 Luglio
A partire dall'ora in cui si riesce ad arrivare, per chi rimane, organizziamo grigliata, torneo di pallavolo e relax nel prato accanto a casa di Marzio.
Per ulteriori informazioni scrivere a info@voltumna.it
April 6-9 2014, Vivit @Vinitaly, Verona
Voltumna will participate for the second year in ViViT.
Vivit – Terroir Vineyards Winegrowers is a section of VinItaly that brings together artisan producers from around the world who want to express themselves in transparency, authenticity and individuality. The wines of ViViT are the authentic expression of the territory that produces them. Vivit is the meeting place for people who love wine, who produces it, to those who drink it, who sells it, of those who speak and those who are passionate about it.
February 15-17, 2014 Sorgente del Vino Live, Reggio Emilia
Voltumna is taking part to the 6th Sorgente del Vino Live, which will take place at the Fonderia in Reggio Emilia.
CONTATTI

VOLTUMNA Scarl
DICOMANO, FIRENZE, ITALY
T +39 333 9339852
info@voltumna.it